Grotte Mazet
Grotte Mazet in the Lot department of France has not been dated. However, based on the neighbouring cave of Grotte de Cougnac it is thought to be at least 14,000 years old.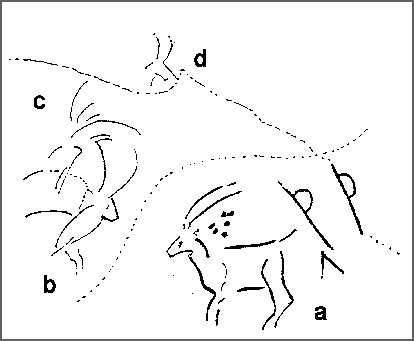 This picture follows a similar theme to that at Grotte des Trois Frères. Therefore, using what we have learned about the passage of time at Grotte des Trois Frères, we can deduce that many does will kid one or two hours after sunset.
Starting on the right we see two xī 夕, each representing one hour of darkness.
These are followed by a pointer, meaning at this point or here.
Then we have an engraving of a goat with a raised tail indicating that she is about to kid.
Above the goat there are six archaic versions of the character dīng 丁, meaning population.

References
Image Credits:
Doe about to kid: Pascal Raux, 2007: Les grottes ornées: Grotte Mazet, 46: Lecture des Panneaux: Panneau N° 1, fig. 1: Association Lithos Préhistoire Patrimoine Périgord, Dordogne: Courtesy: Pascal Raux and Association Lithos: http://lithos-perigord.org/spip.php?article1: Accessed: 18 January 2013
Oracle bone character reference J30175: Richard Sears, 2011: Chinese Etymology: The history of Chinese characters: http://www.chineseetymology.org/CharacterEtymology.aspx?submitButton1=Etymology&characterInput=%E4%B8%81: Accessed: 18 January 2013